When you eat a cherry, do you eat its redness?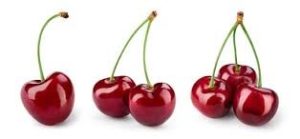 This week, a session from David Birch's book, "Thinking Beans," which I am looking forward to publishing later this term. It explores the concept of "Interaction" through a series of engaging experiments and questions. The book is instantly going to be my favourite source for use in philosophy with children, and I've loved every session I have run with it so far.
Start Day, 3-Day Course and Summer Retreat
Here also are the dates for further training opportunities. The first online Level 1 is underway, and I'm running another one on Fridays as well as a Summer Retreat which will include some optional contemplative exercises you can fit in after the last Zoom finishes at 2 p.m. each day.
I've also added a Starter Day on Friday 3 July for just £99 + VAT for those who want to try out online training without committing to a full Level 1 course (or for learning buddies of those on the Level 1). See: www.thephilosophyman.com/shop
Interaction – When you eat a cherry, do you eat its redness?
I've been running this session with my homeschool classes at www.p4he.org and with pupils from Sandringham ans Stivichalll schools. it has been good fun. I've attached the session plan. For the first question, "If you eat a cherry, do you eat its redness?" I've been asking all the participants to bring back something they can eat to screen (having washed hands!), so that each person can ask themselves their own version of the question. Whenever I am doing philosophy online, I am always looking for ways to make the thinking more physical and embodied, and to use things from their environment.
Similarly, for "When you touch a beautiful thing, are you touching its beauty?", I get them all to find something beautiful. With a shy group, explaining why they find it beautiful can be a gentle way in to an online discussion.