Zoom Philosophy Tips and Events
I now do 18-20 hours of student Zoom classes most weeks, lockdown or not. You might find yourself doing more video lessons too as we check back in to phase 4, code red, apocalypse lite or whatever your national designation is. To help, I'm running some mate's rates Zoom philosophy sessions for teachers on Thursday 14th January, with two sittings, at 4 p.m. and at 7 p.m. UK time (GMT). They cost £10 + VAT.
 
I'll be sharing my tips on how to create a warm and cheerful atmosphere online in which more children will be happy to speak, as well as more philosophy-specific techniques for engagement and depth. There will be a brief "commercial break" in which I'll mention courses and resources that are available, but the great majority of the time will just be sharing what works.
 
Details of that event and other online events in Jan and Feb, including a Philosophy Book Club, courses and masterclasses, are below. Before that, here are some tips that can be easily picked up from the written word for philosophising on Zoom, or any dialogue on any online platform.
 
Tips for Philosophy on Zoom
 
1.    Group first, content after
Time spent creating a welcoming, participative atmosphere is not going to be wasted. Devote the first few minutes of each session to something light to reconnect people – I usually invite jokes or riddles from participants. Or start with a tongue twister and get everyone to unmute while they try it out.
With primary classes, consider announcing a light-hearted competition for your next meeting:
 
Best Hat that is Not a Hat
Worst Dad Joke
Best Animal Impression
Best Excuse for Not Doing Some Homework
Best Invention for Lockdown Entertainment
 
You might not get everyone involved, but at least your more extrovert kids will get to play to the audience they are deprived of 
 
2.    Use the physical world whenever you can
Get them to find things from around the house that connect to the theme of your session, or things they can do, or use things you can see on screen.
 
Here are a few from David Birch's Thinking Beans:
 
Beauty: Find something beautiful and bring it back to the camera. Can you touch its beauty?
Solitude: Is it possible to play "it" on your own?
Colour: If you eat a tomato, do you eat its redness?
 
Here are some others I've used:
 
Freedom: Is Lucy free to do philosophy while her little brother wrestles with her?
Property: Pick up something you think of as your property. What makes it your property? (and then explore difficult cases, such as yourself, a dog, the first time someone claims a piece of land, an idea)
Friendship: Can you be friends with a stuffed toy?
Capitalism: Pick an object from somewhere in your room. How many different companies do you think might have been involved in making it and getting it to you?




 
3.    Make the thinking physical
Thumbs up for yes, down for no. Invite hybrid gestures. "You're an in-the-middler Ali, why's that?" "What makes you a both-er, Eva?" I also use arms crossed diagonally to mean "skip me" if someone has said what you were waiting to say. 
 
4.    Use renaming or chat
I have found chat can be a nuisance. But it does draw other participants in, and there's an argument that being able to be a nuisance to their teachers is one of the rights of which children are otherwise deprived.
I do often enable participants to rename themselves so that they can put a team number as a prefix, indicate viewpoints, share ideas ("What one word catches the most important idea in your answer? Elieze mentioned "intentions", what else matters here?")
 
5.    Elevate your energy
I'm conscious of having more of a "Youtube voice": slightly louder and a generally heightened version of myself when I'm on Zoom. Although it takes a bit of energy, I find that energy comes back to me from the group and it's much less tiring overall than if I'm more reserved and participation is lower. I also sometimes give myself "camera off" breaks while kids are preparing their thoughts. I'm also careful to look after myself physically.
I recently revisited voice training and make sure I breathe well and get through vast amounts of water. My best buy has been a Harmoni standing desk, pictured below. It's easily adjusted between sitting and standing heights, and an elegant pice of design. If you use the code WQ9VX0 and the link https://harmoni-friends.kckb.st/97f4b80a you will get £10 off and I get some sort of affiliate kickback.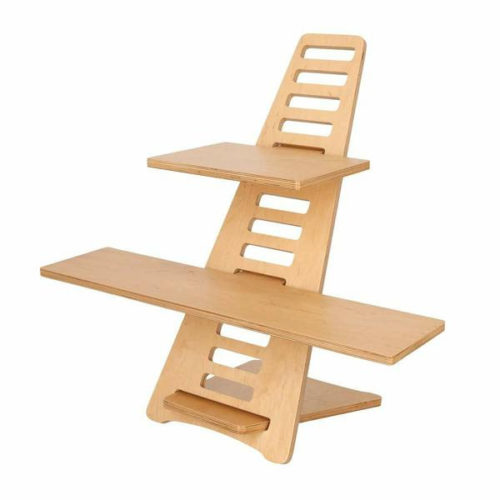 6.    Give kids roles
Among the most delightful sessions I have are the Debate Club sessions. As well as formal debating, we have a Joker, a Wordmonger, a Riddler, Didyouknowists and occasionally Ranters and Enthusers. Having speaking roles in a session for which participants can prepare in advance helps to distribute the talk and promotes engagement.
 
Online events
 
For children
My usual programmes of classes for children start again week beginning 18th January. There are philosophy, debate and improv classes, with different age ranges from 6 to teens. All can be booked at www.p4he.org and www.giftcourses.co.uk £7 or £25 for a block of 4.
 
What is truth? Stay for an answer – For general-purpose adults 9 p.m. Tuesday 19th January
If unlike Pontius Pilate you stayed for an answer to this one, you'd be staying for a very long time. Truth is one of those ideas we use all the time and think we understand, but which turns out to be more slippery than you imagine. We'll explore four different theories of what makes truth truth and see if any of them ring true, or that would be too good to be true. Part of the Philosophy LATE series, fortnightly on Tuesdays. £7, Book at www.p4he.org
 
And now, the events for teachers (all bookable at www.thephilosophyman.com/shop)…
 
Philosophy on Zoom for Teachers (£10 +VAT)
Thursday 14th January – Choice 4 p.m. or 7 p.m.
A free, one-hour workshop focusing on how to create a warm and cheerful atmosphere online in which more children will be happy to speak, and playful questions that make for deep thinking. Book your place here.
 
Philosophy Book Club (FREE)
Monday 1st Feb, 7.30 p.m.
"A Guide to the Good Life: The Ancient Art of Stoic Joy" by William Irvine
I've found this guide to stoicism, an ancient "philosophy of life", useful in my mental response to the new lockdown. It's a good read, combining philosophical argument with practical techniques for living a more tranquil and purposeful life. Book your place in the club here. You can purchase the book on Amazon – a donation goes to charity if you use this link.
 
Philosophy Circles Starter Day (£99 + VAT)
Monday 25th January 9 a.m. to 3.30 p.m. (four hours of sessions spread over the day) 
A one-day course introducing the principles of Philosophy Circles, our streamlined, flexible approach to philosophy for children. Includes a selection of "top pick" sessions for a range of year groups. Book your place here.
 
Philosophy Circles Level One (£199 + VAT)
Mondays 25th January, 1st and 8th February
9 a.m. to 3.30 p.m. (four hours of sessions spread over the day)   
A three-day course introducing and going deeper with Philosophy Circles, including sessions on planning philosophy into your existing curriculum and a wide repertoire of facilitation techniques. Book your place here.
 
Philosophy Circles Masterclasses
These provide opportunities for experienced practitioners and others to join participants on the extended courses to focus on a particular aspect of P4C practice in greater depth. Each masterclass will last for an hour, but I will stay online to continue to answer questions for those who have them for another half hour or so.
 
Monday 25th January 2.30 p.m. – The Question of Questions (£25 + VAT)
Questions lie at the heart of P4C. We will explore several different ways of classifying questions as a route to creating powerful questions more efficiently and "to order". Book here.
 
February 1st 2.30 p.m. – Writing Stimuli for P4C (£25 + VAT)
I will share insights from ten years of writing and selecting stimuli for P4C, with problematization strategies, things to avoid, how to embed multiple thinking "offers" in a text and ways to add colour and humour to a stimulus. Book here.
 
February 8th 2.30 p.m. – Facilitating in the Now (£25 + VAT)
P4C, like improvisation or telling rather than reading a story, is a live, ephemeral, responsive practice. In other words, you're all making it up as you go along! This session focuses on building your awareness as a facilitator of the philosophical "offers" being made, and responding moment-to-moment in ways that enhance the discussion and serve the participants. Book here.
 
Whether or not you can get along to any of these events, I wish the happiest possible New Year and good luck in the challenges of being an educator in these sci-fi-worthy times. Feel free to email if you have questions about how to do philosophy within the constraints you are working to.
 
Best wishes,
 
Jason