P4C Activity: Philosophy for Readers – Zebra Striped Texts
I hope you had a good holiday. To kick off the new year, here are some trial examples of a new project, "Philosophy for Readers". The aim is to publish philosophy stories and dialogues as a series of class-set books, A4 or A5 format, using a stripy alternating presentation that is very readable and in particular dyslexia-friendly.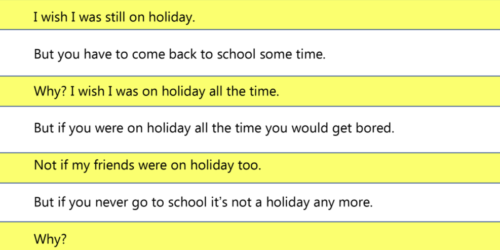 The idea is that the children:
Stand up – because there is greater energy and better focus on reading partners when standing up
Pair up – so that the audience for their reading is as small as possible
Share the reading – with one being yellow and the other white
Carry on talking – using questions at the end, carrying on the argument or talking about the themes of the story
Readability
The larger font size aids reading fluency for all, and dyslexic readers may like to be yellow (evidence is contested). I've included grey versions for ease of printing, although the published materials will use colour. In the first test of the format, pupils found the alternating stripes and the larger font helped with reading and turn-taking, and they engaged well with the story.
Something for Each Age
There are three attachments – a new dialogue about staying on holiday forever aimed at 6-9 years, and reformats of The Fairest Teacher aimed at 9-12 and The Time Traveller for secondary age. In each attachment, the yellow striped version is followed by a black-and-white version.
I hope the format makes it easier to develop reading aloud, improves the quality of dialogue, and provides a scaffold for independent thinking and conversation. It should also be a very accessible way in to doing philosophy for teachers who have had limited training.
Your feedback needed
I would be very grateful for your feedback and that of your children, both positive and negative, before I put time and money into producing books in an A5 version aimed at different ages. What about the title, "Philosophy for Readers"? I'm open to other suggestions. If the format is successful, I envision history, literature and other strands as well, all pushing the agenda of shared reading and engaged conversations.
Best wishes,
Jason