P4C from Pandemic to Infodemic
Some of us will have touched on the coronavirus pandemic in our P4C. We've shared a few thoughts on philosophising about the topic (TLDR: don't shove it down their throats; let them opt-in instead) and also sent plenty of bulletins about facilitating within the restrictions – find them all on our blog. 
Regardless of what we try, it's super important that children base their opinions on solid evidence and notice how the media can shape a story. 
"From pandemic to infodemic" – special resource 
So this week, we can recommend a special resource published by The Economist Educational Foundation that helps children navigate their way through the information overload. Its called "From pandemic to infodemic".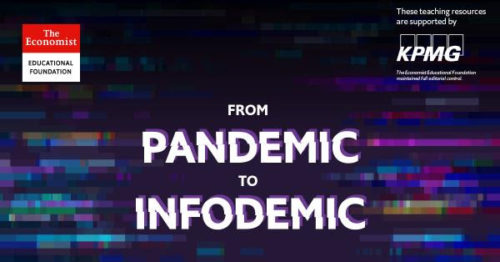 There are two options available – a full scheme of work, comprised of six one-hour lessons and complete with lesson plans, PowerPoints and printable resources.  
Or, if you're short on time, there's a condensed version – entirely on PowerPoint and made up of six, 20-minute activities. Perfect for a crowded curriculum, or for form-time/registration.  
Both are available to download at www.economistfoundation.org/resources 
We can personally vouch for the quality of the Foundation's resources. Jason helped the team develop a pedagogy in their early days, and Tom now works there full-time as well as continuing to write and train for The Philosophy Man. All of their stuff is created by experienced teachers who leverage the expertise of the The Economist's journalists. Resources are fact-checked – just like the newspaper – and everything is professionally designed and ready to teach with no prep required.  
Best wishes, 
Tom and Jason