Here you'll find various examples of "recording" P4C, from displays, to diaries, to extended writing opportunities.
---
Grenoside Primary School, Sheffield
Thanks to Jenni Monarch for sending in a picture of her brilliant P4C display.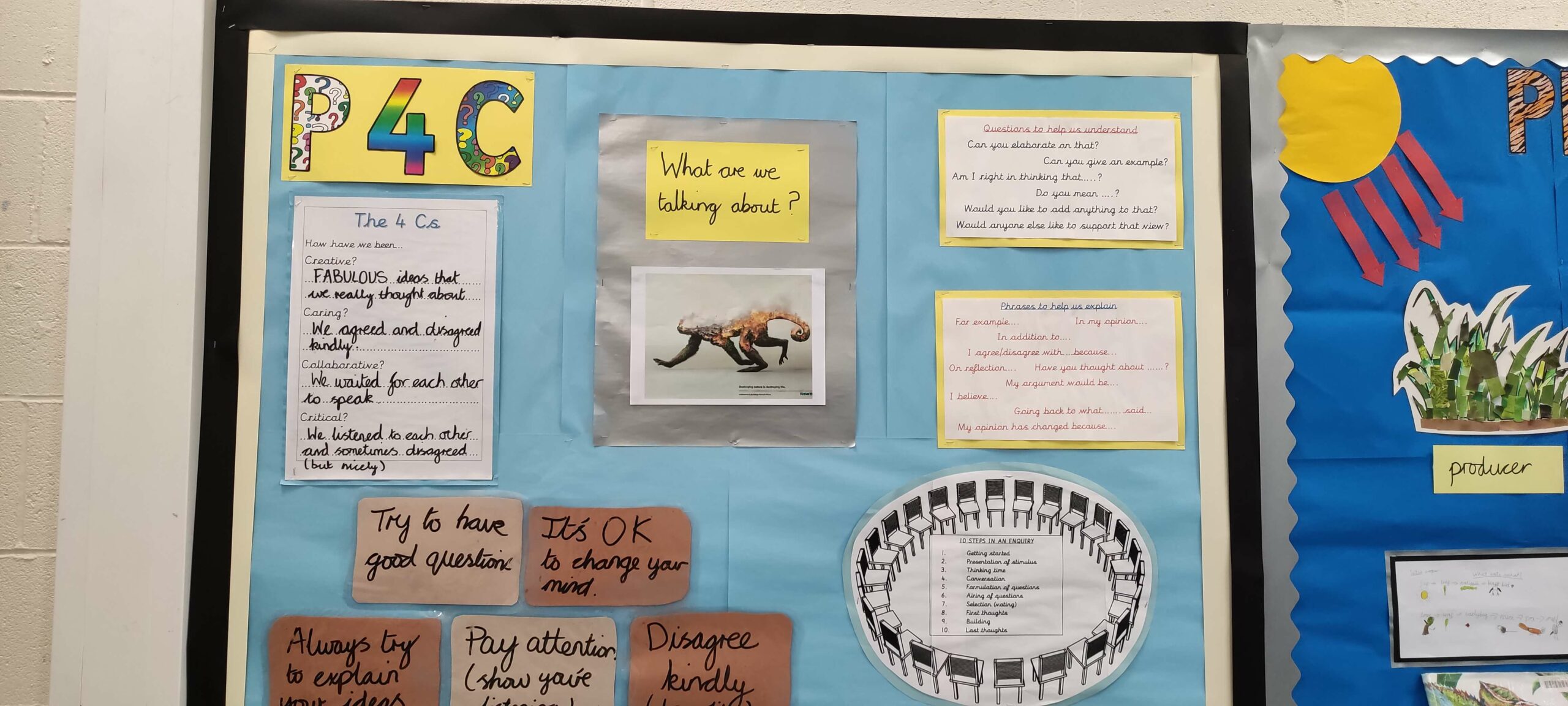 Eagley Junior School, Bolton
Sophie Barclay introduced P4C to her school in 2014 and sought a way to record which concepts were being covered by classes across the school, and to celebrate the progress of all pupils. She gave every teacher an A3 sketchbook and classes now use these to document all enquiries. Often included are the stimulus, the question, photos and final words. Sophie says: "The books have been a huge success! The children love them (and so did our Ofsted inspector last half term!) They are not only lovely records for the children to reflect on, but also help me monitor P4C across the school."
Recording enquiries in this way has enabled Sophie and the class to reflect on a number of things. For example, one page shows how a question evolved when the pupils spotted an assumption within it. A page on bravery also recorded a concept-activity done before the discussion. This can be used to refresh pupils memories of an activity and to demonstrate in future how concepts can lead to questions.
St. Jude and St. Paul's Primary School, Islington
Siri O'Neal of St. Jude and St. Paul's Primary School in Islington has demonstrated how pupils can record and reflect their thinking during and after P4C sessions. Siri has created P4C journals for each pupil and she has also put up a range of fantastic displays. You can see her creations by clicking the thumbnail pictures below. You can also download labels for journal front-covers and inside-cover question prompts too.
Tom's Enquiry Diary, from working with Year 7 at Channing School
Resources for combining P4C with literacy
Smart Thinking - Questions for parents and children to talk about together at home, perhaps one a week. They record what the "junior thinker" and grown-up each think and why, and put their names at the bottom.
Questanswerers: 
People sometimes say, "One the things kids like about P4C is that they don't have to write anything". But this misses out on the tremendous opportunity to use P4C techniques to make writing more meaningful and effective. The example powerpoint attached focuses on the concept of materialism, but you can edit it for any topic.
First, get students to pair up to talk about the questions you are exploring. One is the Answerer, trying to answer the question in black. The other is the Questioner, pushing their thinking deeper using the coaching questions in red. After a few minutes, they swap roles and move on to a new question.
The great things about these coaching questions are:
​​​​​​​
1.    They can be used with any topic.
2.    They help to deepen and structure thinking.
3.    They don't involve the Questioner putting any of their own thoughts into the conversation.
You can use the same questions to help students with something many find difficult - putting thoughts on paper. Pupils simply fuse the Questioner and Answerer roles together to become 
Questanswerers
, using the coaching questions as prompts to deepen their own thinking.

Simply model an example, like the one above, with your class. Notice how each sentence is followed by a coaching question. This provokes a response, and develops and expands on their initial point in a flowing and coherent way.
Ask your pupils to 'open up a dialogue' within their paragraph, where they physically write in a question after each sentence. Tom used this last week, and feedback from pupils was glowing. Many commented how helpful it was to develop and enhance their answers, and they praised its simplicity, too.
You can use this approach to model and practise the development of a range of written work, from essays to speeches to opening debate statements. Get them to write in the coaching questions to begin with (perhaps in a contrasting colour), and then, once the 'internal dialogue' becomes more familiar, to just think them. Having them on a card they can refer to is helpful.
---
If you think your creations - whether they be resources, displays, journals, or something else - would provide inspiration to others, email them to tom@thephilosophyman.com so we can consider them for future bulletins.