To kick off the new academic year, here's a simple and engaging activity about photographs, truth and lies. Also, if you're in a UK primary school, scroll down to get your free sample of Sticky Questions!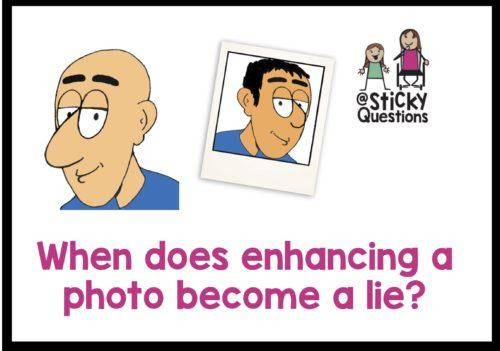 Jason returned to E-ACT Primary Academy in Blackley last week to train on Sticky Questions and on embedding philosophy in the curriculum. These are four proposals from their teachers in response to this question:
1. When you make any change to it
2. When you can no longer be recognised
3. When you add something or take something away
4. When you say it's true
You could use these, or even better, get your learners to come up with some proposals of their own. Capture each proposal on a mini-whiteboard, and get learners to vote with their feet. First, stand next to the idea agree with the least. Invite reasons from each group. Now, which do they agree with the most?
Limiting an open question like this to four options focuses the discussion. You also get moment where someone moves from one option to an another, swayed by the arguments, which celebrates listening and open-mindedness.
You can also get them to apply their opinions to examples by showing them real photos that have been doctored – such as magazine covers, a celebrity before/after shot, or perhaps put yourself through a filter or airbrush app. Ask for their verdict on whether any of these photos are lies. Or you could take a selfie and modify it! Finally, invite them to reflect on whether they've changed their minds on any of the original four proposals.
Andy Gotts is a celebrity photographer who refuses to airbrush his portraits. How would our view of celebrities, and ourselves, change if every photographer followed suit?

Teach in a UK primary school? Order your free sample of Sticky Questions today!
This week's question is taken from Sticky Questions – our unique approach to homework where children take home a juicy philosophical puzzler stuck to their jumper, chat at home and bring their thoughts back to school. UK teachers can order a free sample right now.
Get four weeks worth of questions ready to use immediately for whichever year group you teach (R-Year 7). We're sorry we cannot ship the free samples overseas, although we can fulfil actual orders to most places in the world – except the EU [sigh].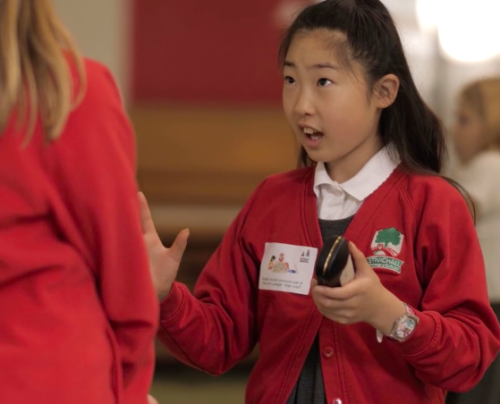 Best wishes,
Tom
Never miss a resource! Get these P4C ideas sent straight to your inbox every week for free.