In our last issue before Christmas, we share our favourite resources from 2022 and explain explain how they can be re-used in different contexts.
And if you missed last week's Christmas special, you can find it here. Also, scroll down for a job opportunity with Outspark, one of my other businesses. Forgive me spreading the net to this bulletin – we just want to get the right person!
Our favourite resources from 2022
Tom:I absolutely loved making the session that asks "If you hire a donkey, do you hire its shadow?" inspired by the famous Aesop's fable. This question jumped out at me when I was revisiting the book of fables I was given when I was five. The story of an argument in the midday sun between the owner of a donkey, and someone hiring it, has a beautiful simplicity and the question never fails to divide a class – as this photo from Andy Westproves!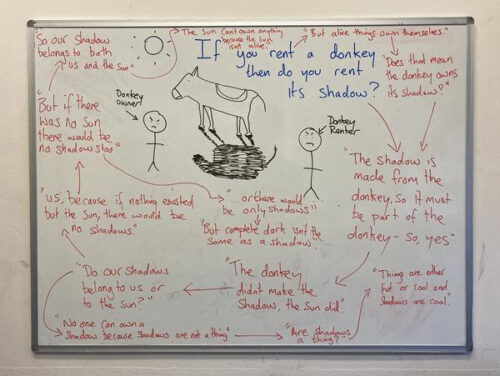 How you can use this approach again: sadly, not all of Aesop's fables involve two people arguing! But they make great stimuli for P4C and question-creation – whether that's by you, or the children. Each fable has a moral, so consider putting that into question. Should it always be followed? Sometimes? If so, when?
Read and hear all the fables at this BBC page.There's also comprehensive teachers' notes with plenty of ideas for dissecting the stories and characters.
Jason: My favourite issue of 2022 shared some of the wisely foolish stories of Turkish folktale favourite Nasreddin Hodja. I enjoy their chopped logic and the way you can start with something playful and get into a serious philosophical discussion. We had a lot of fun with them in our online sessions with kids and teens at www.p4he.org.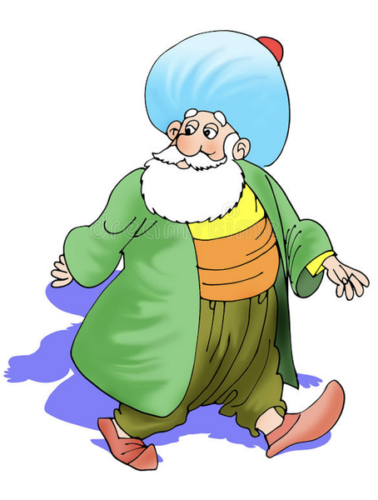 How you can use this approach again: like Aesop's Fables, there are hundreds of Nasreddin Hodja stories, with some of the best captured here. They're all full of children-friendly concepts like right, wrong, knowledge and change. See if you can pick a tale and create some questions of your own.
Marley: My favourite is "Whose sausage is it anyway?".I started by imagining how a concept like ownership plays out in the world of a child. For example, ownership of toys, ownership of sweets etc. This brought back a childhood memory of my dad stealing the food off my plate while I wasn't looking. Then I broke down the story into parts: when the food was cooking, when it was on my plate, when it was in his belly etc. This means we can ask the same question again but with slightly different circumstances: "Who owns it now?"… "and what about now?" etc. This technique usually brings out a lot of philosophical nuance.
How you can use this approach again: What light-hearted things do you remember arguing about with your parents? Then, think of the concept that you had different interpretations of. (Tom – for example, my Dad and I used to argue about where things belong: why did everything I owned have to stay in my room, whereas he could store his things around the whole house?). Who was in the right?
Thank you from us
Whether we've visited you, met you on Zoom, or just fed you with lesson ideas, thank you for making P4C happen in your school this year. It's a pleasure to do what we do and it wouldn't be possible without your enthusiasm! It's lovely to hear from you too – we read every reply we get. Merry Christmas, if you celebrate it, and we'll be back in January.
Jason, Tom and Marley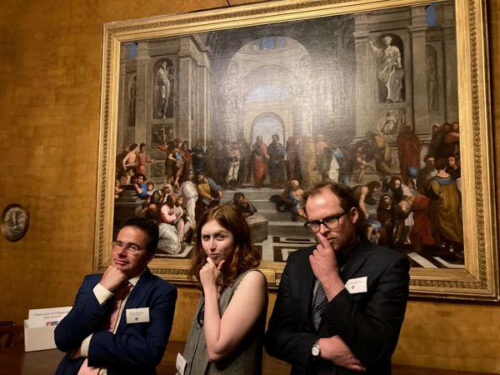 P.S. Another passion of mine besides P4C is outdoor education, and my company Outspark are seeking a new Deputy Operations Manager. We work mostly from the Forest of Dean south and east to Kent. Here's the link – do forward it to anyone else you think it would suit: www.outspark.co.uk/deputyopsmanager
P.P.S. The photo above was snapped when the three of us got together at my old college, Corpus Christi in Cambridge. I live in Cambridge now, but have worked with surprisingly few schools in the city. I'd love to do a residency within cycling distance, or just be more connected to local schools. So do get in touch if your school is in Cambridge or the surrounds.