Who says thinking should stop at Christmas? Not us. But it should definitely be fun.
In this festive edition of the bulletin, a varied activity that combines thinking, writing, movement and reflection.
Philosophy Scribble Sheets
Scribble Sheets begin as big pieces of paper each with a question in the middle.
In small groups, children discuss the question and write their thoughts around it. It's a great way for them to practise summarising thoughts on paper and building on others' ideas (and creates material for a display afterwards!).
We've made a Christmas edition to use this week – here's the process:
Download and print the questions here. Use the biggest paper possible or stick them onto some large sugar paper.
Place them at six different stations around the classroom.
Divide children into roughly equal groups and send them to a Scribble Sheet, where they read the question and scribble down their answers.
After 5 minutes, play a snippet of a Christmas song, signalling the time to move to the next Scribble Sheet.
At the next station, they add responses that branch off from what the last group(s) said.
Repeat so that all groups go to all Scribble Sheets.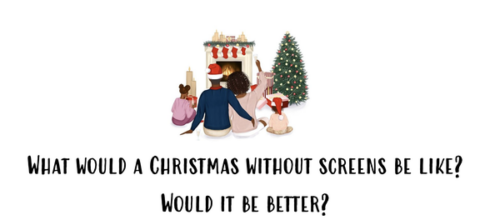 Top tips
Try to model the process on your classroom whiteboard – particularly responding to what's already on the paper
Encourage them to respond to each other by providing sentence starters like "I agree/disagree with this because…", "I have another example of this…" and "I think this is important because…"
Add some competitive sauce by giving each group a team name, and awarding prizes or housepoints for original contributions
We've picked some of our favourite Christmas questions, but not all of them suit your learners, choose others from this brilliant resource by Wonder Ponder.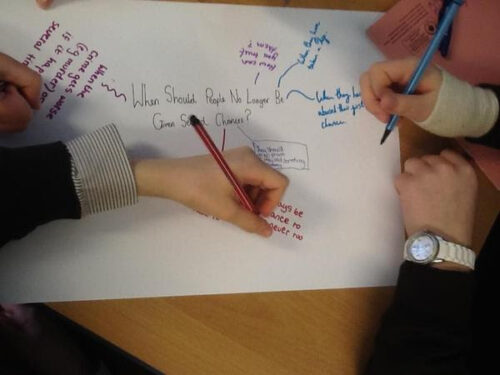 Next steps
Afterwards, encourage children to reflect by asking them to share: something they agreed with, something they disageed with, and something they hadn't thought about before.
If you have time, hold a vote on which was the most interesting question and have a class discussion about it (either there and then, or on another day). If anyone is struggling for answers, let them come and borrow an idea from the original Scribble Sheet.
Finally, display everything on a wall to celebrate their thinking! Just remember to take down in January, bad luck and all that…
Even MORE Christmas-themed philosophy
Each Christmas since 2011, we've tried to help you keep children's minds engaged and challenged in between nativity rehearsals and talent shows. You can find everything at:
www.thephilosophyman.com/christmas
…including Rudolph's Revenge, how to explain Christmas to an alien and our Spot and Stripe Christmas edition:
As long as you aren't teaching the same kids every year, you can dip back in and use as much as you like!
If you don't celebrate Christmas where you are and are looking for something philosophical this week, you can find a special selection of our resources at www.thephilosophyman.com/free-p4c-resources
Best wishes,
Tom and Jason
PS: If you don't think you can enjoy Christmas til you've got your January INSET sorted, we've just had a school rearrange their training day, so January 3rd now back available. Learn more about our P4C training here, and reply to this email to book this slot.
Never miss a resource! Get these P4C ideas sent straight to your inbox every week for free. Sign up here.