Last month Elizabeth Johnson Jr. was cleared of her crime after a campaign by local schoolchildren in Massachusetts.
However, she's been dead for 275 years. Her "crime"? Being a witch. Follow our enquiry plan below.
Also this week, a novel way to embed P4C in your existing curriculum – and I'm looking for schools who want to give it a go. Scroll down for more details.
Stimulus: Woman Cleared of Witchcraft 329 Years Too Late
Read the full story here. It's very readable, but in summary:
Elizabeth Johnson Jr. was found guilty of witchcraft in the Salem Witch trials, after her grandfather allegedly described her as "simplish at best". She was sentenced to be hanged. She pleaded guilty (the women who were hanged were typically those who pleaded innocence), and she was eventually saved by then-Governor William Phips. She went on to live for many decades, dying in 1747 at 77.
For centuries, she was the only woman whose name wasn't cleared. Experts believe this is because she never married and had children – so had no descendents to fight for justice on her behalf. However, in 2021 a group of children at a school local to where Elizabeth lived recognised this injustice and researched her case and took a bill to lawmakers. On May 26th, Elizabeth's name became the last of the Salem Witch Trials to be cleared.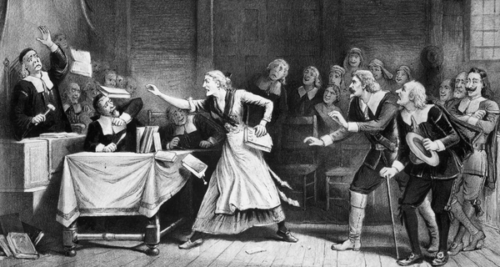 Possible questions:
Justice: the process of using laws to fairly punish or clear people of crimes.
Can Elisabeth receive justice, even though she's dead?
Should those who found her guilty face justice (even though they're dead)?
Does the government of Massachusetts owe Elizabeth Johnson Jr. anything else?
Tips for running your enquiry:
Telling a story is almost always better than reading one. Try to memorise the key elements and tell the tale to your class, like you were telling it around a campfire.
If this feels too daunting, give them the article (or an adapted version of it) and begin with some intriguing comprehension questions – for example, why was Elizabeth the only woman who didn't get her name cleared until now?
Start with some of the questions listed above, but give them space to come up with their own. After discussing the stimulus itself, encourage them to move to questions inspired by the story, and based around its concepts, such as:
Does our meaning of justice change over time? How?
When do crimes become crimes no more?
Do children have more power than they believe?
There are of course, very important questions about the extent that authorities believe women, and the legal mistreatment of women dating back to witch trials and beyond. You may wish to discuss this if your learners are old enough, but it would most probably need more knowledge and context than this stimulus provides.
Struggling to fit P4C in your curriculum?
Plotting with staff at Blackley Primary on Monday, we hatched a possible solution to the problem of how to do philosophy within the existing curriculum while ensuring it has its own distinct identity: the Philosophy Ship. It travels a world made of continents such as the long thin continent of Historia, whose ports are all named with numbers, Geographia, Mathematica and surrounding destinations like Friendship Island, Private Peaceful Island and so on from the Archipelago of the Imagination. Everywhere it visits, the crew ask questions and store up their best answers in the Ship's Log. There's much more to share about it, so I'm keen to find other schools who would like to give it a try next academic year.
I'm offering a limited number of free, no-obligation phone calls to anyone who might be interested booking a "Philosophy Ship Day" next year that could include an assembly, observed workshops, a meeting with a small team, whole-staff training and opportunities to share ideas with other Philosophy Ship schools. Click here to send a pre-populated email to express your interest.
Best wishes,
Jason