This week, an invitation to our second annual World Philosophy Day Live-Lesson and a new stimulus to explore festivals and celebrations.
Join our Live-Lesson on World Philosophy Day!
Thursday November 16th is World Philosophy Day, so why not celebrate it with a special live-lesson? Last year's was such a success, we're running it again with all new questions. Everyone is welcome from age 8+.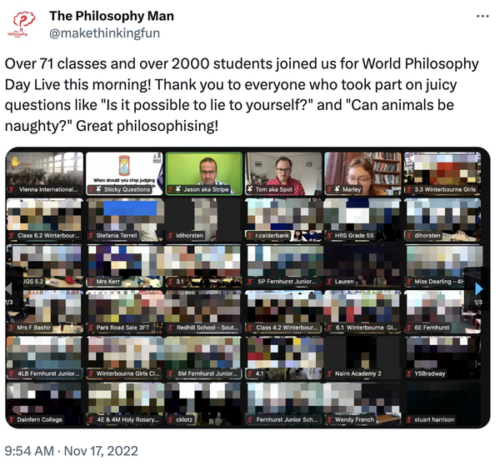 This year, join The Philosophy Man team, and schools around the world, for World Philosophy Day Live – a chance for children to enjoy some "deep-fun"!
A lively interactive experience that gets children thinking, talking and laughing
An chance for learners to share their views with a global audience
An easy way to celebrate World Philosophy Day with minimal planning!
There's two live-lessons – one at 9 a.m. (UK time) and another at 3.45 p.m to welcome as many global thinkers as possible.
Only one ticket is needed per school – you can share the Zoom link around. Please only book if you intend to come – no shows cost us money and may also stop another school who wanted to attend – thank you!
Philosophy of Festivals
With Halloween today and Bonfire Night, Hanukkah, Diwali and Thanksgiving all around the corner, festivals and celebrations is a popular topic in schools.
Here's a stimulus to explore festivals further. We've dug into the various concepts connected to this topic, such as holidays, freedom, and tradition with associated questions on each.
If your Head is on hand, why not grab them to act it out with you and replace the names with your own (and take creative licence with some details to make it feel real). It's also downloadable here and attached to the email.
The Festival of Miss Smart

Teacher Great assembly as always Mrs. Pennyworth. I'd forgotten how many religious festivals were coming up.

Head Ah thank you, Miss Smart. Yes, it's so important for children to learn about them all, even if they don't celebrate them.

Teacher I couldn't agree more. My class are doing Diwali next week.

Head Brilliant! What have you got planned?

Teacher Oh, I won't be here. It clashes with my own.

Head Your own…?

Teacher Festival. I've decided they look so much fun, I've made one of my own.
Head I'm not exactly sure that's a reason to be off work, Miss Smart…
Teacher But we allow children time off for their religion's festival, don't we?
Head Yes… but that's for established festivals, like Hanukkah or Vesak.
Teacher Well I've established my own. The Festival of Miss Smart.
Head But festivals are celebrated across the world. Millions taking time off at the same time. All part of the same religion.
Teacher Mine's probably just me and my cat, I grant you. But it'll have everything else – special food, presents, songs. You know, traditions.
Head Don't traditions need to have been around for a bit?
Teacher Mine have been around since next week. Traditions must start somewhere.
Head I can see that, but where will this end? What if Mr. Boggs the caretaker wants time off to worship his broom-handles?
Teacher Most festivals involve objects. You showed us during assembly.
Head But they're a bit more special than broom-handles, aren't they?
Teacher Different things are special to different people. And give it time. I bet the first Christmas tree looked a bit odd indoors. This idea has legs, Miss Pennyworth.
Head I'm not sure you've got a leg to stand on, Miss Smart.

Questions:
Who you agree with more – Miss Smart or Mrs. Pennyworth?
Can you think of any more reasons for either side?
What's the strongest reason for either side? What's the weakest?
What are the must-have ingredients for a religious festival?
Should schools mark all religious festivals?
What makes a tradition a tradition?
Side thought: we've done World Philosophy Day Live once, and plan to do it again and again until we retire. Is it a tradition yet?
Best wishes,
Tom and Jason
PS: Why not make it a week of Philosophy in November? On the day after World Philosophy Day (that's Fri 17th), we're running our virtual CPD day with tickets only £100+VAT and the day after that (Sat 18th) it's the SAPERE Conference with Jason delivering the final keynote session. Use code SAP-PHILMAN-25 foran exclusive £25 discount for Philosophy Man bulletin subscribers.