Talking At Home, At Home With Talking
More and more children arriving in reception scarcely talking at all…
…but research tells us that engaging children in conversation is more important for brain development than trying to bridge the '30 million word gap'. Distraction by devices mean adults speak less to their children, children speak less to each other, and the impact is growing. If they don't learn to talk confidently to groups in their primary years, it's unlikely they ever will. That impacts their learning, and their economic and social wellbeing. So how can we improve the volume, and quality, of talk in our pupils?
Talking At Home, At Home with Talking:
Workshops and training to encourage better talk in your school community
No two bookings are the same – everything is tailored for your school – but three things always remain:
Pupil Workshops, observed by staff
Parent Workshops on how to have better talk at home
Staff Twilight INSET on techniques for more and better talk in the classroom
This way, staff see the techniques in action with their own classes, which is powerful proof of its benefits. It provides visible examples of what our our Philosophy Circles approach looks like in the classroom, and so makes the subsequent INSET all the more grounded and accessible.
This also has the advantage of allowing you to use any normal school day plus your regular meeting, or some scheduled twilight time.
In the INSET session, we cover look at several strategies to increase the volume (in both senses!) and quality of talk in the classroom. By exploring the three core principles of Philosophy Circles in an interactive and engaging way. More participation and less PowerPoint. The key aim is to empower staff to embed more effective talk activities in their own lessons, so it's another way of doing what they already do, rather than something extra. Staff will leave confident and enthusiastic about trying the ideas the very next day.
Help children find their voices
Typically, we can fit in four to five pupil workshops into a day. We work with existing classes in their spaces, and with their current topics. As many staff as can fit are welcome to observe.
Through observing our workshops, your staff will learn how to overcome the different obstacles children have to speaking, and get (almost) every child talking:
Playground Confident, Classroom Shy – how to empower children who clam up in the classroom
Chance, Chain, Choose – how to reduce inequality in the classroom
Separating Thinking and Speaking – how to beat the "I dunno" card
Unwrongification – how to free children from the fear of getting it wrong
Small Talk Big Talk – how to keep them talking while raising the stakes
How to make thinking a game by making it physical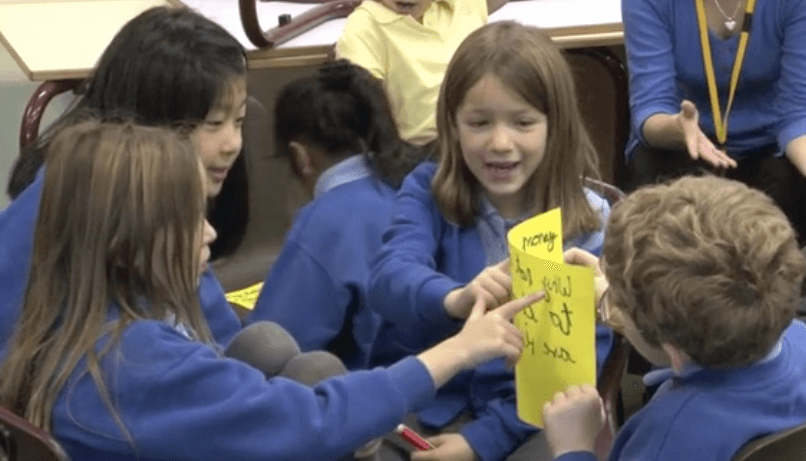 "Since commencing P4C, we have noticed a dramatic increase in the children's ability to discuss concepts with their peers and they have vastly improved looking at one another when speaking, in actively listening and challenging others' views and opinions"
It has been fascinating to watch the children engage with a range of challenging topics with maturity, enthusiasm and empathy thanks to the facilitation provided by Tom. Their curiosity was inspired by the thought-provoking stimuli in each session and several individuals, who usually find it challenging to share their ideas, came to the fore during the big discussions.
Pupils comment that they are thoroughly enjoying P4C and enthusiastically anticipate their lessons with Tom each week; they also site that 'they enjoy the challenges to their thinking.'
Since commencing P4C, we have noticed a dramatic increase in the children's ability to discuss concepts with their peers and they have vastly improved in their ability in looking at one another when speaking, in actively listening to one another and in building upon and challenging others' views and opinions. Before the lessons started, the children were not listening deeply to one another and responding to one another constructively – they had their opinion and that was it. We have also noticed an increase in confidence and concentration.
Initially, the children tended to direct their responses towards the adult. After a couple of weeks however, they were looking at the child they were responding to and dialogue bounced around the room without adult intervention.
The children's critical reasoning skills were also developed; children were starting to support their views with reasons.
Enquiry based methods are also being instigated by the pupils themselves in other curriculum areas, like Who is the villain in Macbeth?
As teachers, we are excited about working elements of P4C into our day-to-day classroom practice, particularly when creating and discussing questions during class reading sessions.
Sharee Johnson and Jonathan Hall
Year 6 Teachers, Amesbury Primary School
Practical for Teachers
With the ever-increasing pressure from above, teachers feel more and more accountable for planning every minute of children's learning. It creates a dependency culture, with children always looking to the teacher. Learn how planning less and letting the questions and talk activities do the work fosters greater independence and faster progress.
During the demonstration day, teachers can see how easy it is to embed talking strategies, and immediately give it a go themselves. There's no wondering of "where am I going to fit this in?" or "I'll do this soon" and it never see the light of day.
How to create deep, worthwhile discussions within a 30 minute timetable slot
Dozens of ready-to-use activities your staff can can adapt for any context
Simple, memorable principles that connect with your teachers' values

Spreadable to your Whole School
Handouts from training courses often sit in the "INSET graveyard'. It's full of ideas that sounded great on the day but which never quite got passed on to colleagues. Teachers are very busy, and so new initiatives often get buried under the hectic pace of day to day teaching.
To avoid that, each twilight INSET includes attractive minibooks that are written with busy teachers in mind, and following the course our huge range of resources means there's every support for you and colleagues continue using P4C regularly.
The books have memory aids in the form of stories, summaries and catchily-named activities so that it is easy for colleagues to make it part of their general teaching style.
Over 150 session plans for use within the primary curriculum
The twilight INSET includes our Premium Pack of Resources – 150+ 30 minute sessions on the most popular primary school topics. It makes it another, richer way to do what you do already, rather than something else to squeeze in.
Click here to edit Spacer module.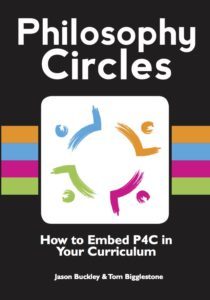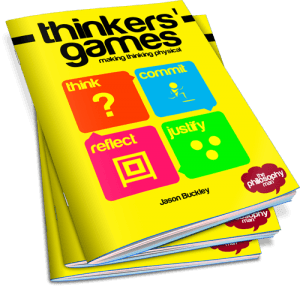 Resources
Over 100 session plans with a consistent, easy to follow format, plus a wealth of supporting stimuli and other resources.
Over 120 curriculum based session plans
Self- and peer- assessment tools
Training Videos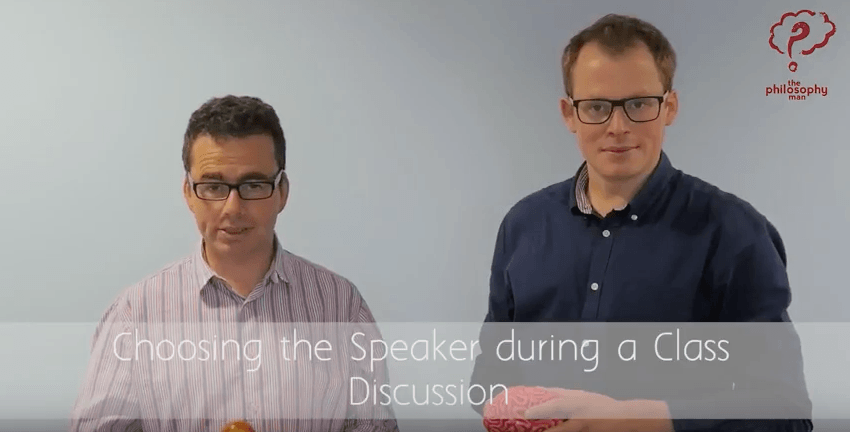 From 'How-to' Guides…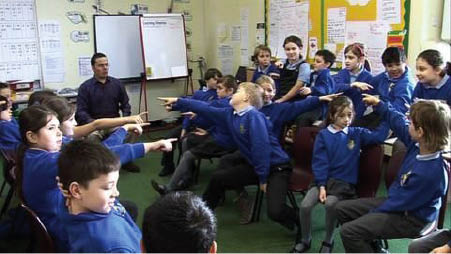 …to enquiry footage with commentary.
What teachers say about our resources…
These resources are absolutely superb. I've been trying/failing to use my imagination to get our girls more interested in this kind of thing. After using various books, an outside speaker and my own imagination I've made a tiny bit of progress, but your exercises captured the girls' imagination much more quickly. Great stuff.
Mary
Teacher
Just wanted to thank you for all the resources you have created/sent to me/posted.  They're great and I'm using them weekly with my class.
Debbie Brooks
Can I start by saying how fantastic I think your ideas are – I really enjoy getting your emails and my Y6 class and I have really enjoyed using many of your stimulating resources. Recently, we spent all afternoon philosophising following your 'should Russia be sent home from the euros?' stimulus – kept my lively class engaged for hours. So huge thanks!
Jo Lowe
Newlands Primary School
Suddenly remembered that I have an inbox full of your emails and I have found so many good resources for kick starting discussions and debate. I am planning this lessons for year 7 form tutors (mainly PE, Maths and Economics teachers) so it has been really useful to have interesting resources to build on.
Lucy Strike
William Ellis School
There is definitely a buzz with your P4C materials with my current class and colleagues, which is all down to you.
Heather Soar
Handsworth Primary School
Thank you so very much for your wonderful P4C resources. I will prepare the sessions during the summer holidays in case I find another school who would like P4C before then.
These first lesson examples you have so kindly shared will be really useful and I just wanted to say a big thank you to you for your generosity of spirit. This will really help me to get going.
Rachel Hutchings
Kent County Council
I wanted to send you a thankyou as i have bee4n completing a research project in school this year and your emails inspired me to create a philosophy SOW for my year 8s.
Ann Morris
St Ambrose Barlow School
I wish to say a most heartfelt thank you to you as I used some of your exercises as part of a mini project and it has had tremendous feedback both from staff at my school and from tutors at university. I really appreciated you taking time out from your busy schedule to help me. Thank you also for the wonderful resources that you send out, (the doughnut and it's hole being my current particular favourite – I have even had teachers reading philosophy papers about the concept of holes as a result of this lesson!)
Andrew Lawson
I just wanted to say a huge thank you for your emails, I am finding them to be more useful than the majority of the information that I paid to have access to! I have only just started a P4C group as a volunteer at my children's school, my enthusiasm is by far more dominant than my experience and your emails are a really valuable guide.
Gemma Soper
I just want to thank you for all the P4C resources that you have been emailing me.  Our school uses them regularly as we conduct P4C throughout our primary school from foundation to year 6 once a fortnight. Most of our staff are quite new to P4C so your resources  have been greatly appreciated.
Tracey
Athersley South Primary School
A note to thank you for the resources you send weekly. A few years ago I did the SAPRE level 1 P4C course and practiced it for a short while. However my interest has been revamped since recieving your weekly resources and I have now begun to practice it again with the year 6 class that I teach once a week. I am now in senior management and am encouraging others to take this up by observing my sessions and passing on your resources to teachers of older pupils in the school.  Your hard work is much appreciated. Many thanks.
Tara
Thankyou Jason for all these fabulous resources, as a Headteacher of a small primary you have given me so much to work with.
Christine Kirton
Headteacher
Thank you for the either ories stimulus, it was just what I needed to get my reception class really engaged with philosophy. Our final episode involved arriving back at the port and being offered the opportunity to stay and continue exploring or to go home. They absolutely loved it and we are following it up today.
Clare Walsh
Reception teacher
Thank you so much for your email and the inspirational attachments!
I left the first 'Would You Rather…?' (bear/snake/monkey) for PPA cover for my Y1 class this morning with very clear instructions on how it should be used and returned to find my TA and class incredibly positive about talking about their feelings and able to articulate their thoughts much more clearly!
A major breakthrough in a class that has found the transition to KS1 very hard so far, even with me as an experienced EYFS/KS1 teacher!! They are immediately more confident in talking through their thinking and gave clear and eager explanations all afternoon!
Let's hope they can continue to develop their deeper thinking and reasoning skills and the confidence to participate more!
Tina Hammond
Foundation Stage Phase Leader
What an incredible resource!
Many thanks!
Jules
Teacher
Excellent, excellent resources. Thank you very much.
Lisa Chaffer
Teacher
Many thanks for all of your wonderful resources which you have kindly sent to me over the past 18 months. I have thoroughly appreciated all the help and inspiration you have given me. It has been invaluable.
Peter Reader
Thanks a lot for all the good material and great ideas. I've been working in Philosophy for Children in Porto, Portugal, since 2015 and I'm getting even more enthusiastic with your help.
Actually, last week i was making some research online about icebreakers and other games to apply with the children, and then i received from you some good examples to try in class. Coincidence? Maybe, maybe not!
Marco Antonia
Teacher, Portugal
Thank you for your posts. They have been inspiring, giving me lots to think about and share.They put a new slant on everyday situations, real depth rather than the usual superficial conversations.Regards
Avril Hapley
Teacher
Workshops for Parents
Why limit P4C to the school gates? We also run parent workshops to help you showcase what the school is doing, and also extend the tools of talk to those who speak to our children the most.
We can focus the session on anything you ask:
Do you feel some parents need help understanding the importance of talk at home?
Do some parents just need the confidence to talk more about questions they might feel out of their reach?
Or you have another challenge altogether?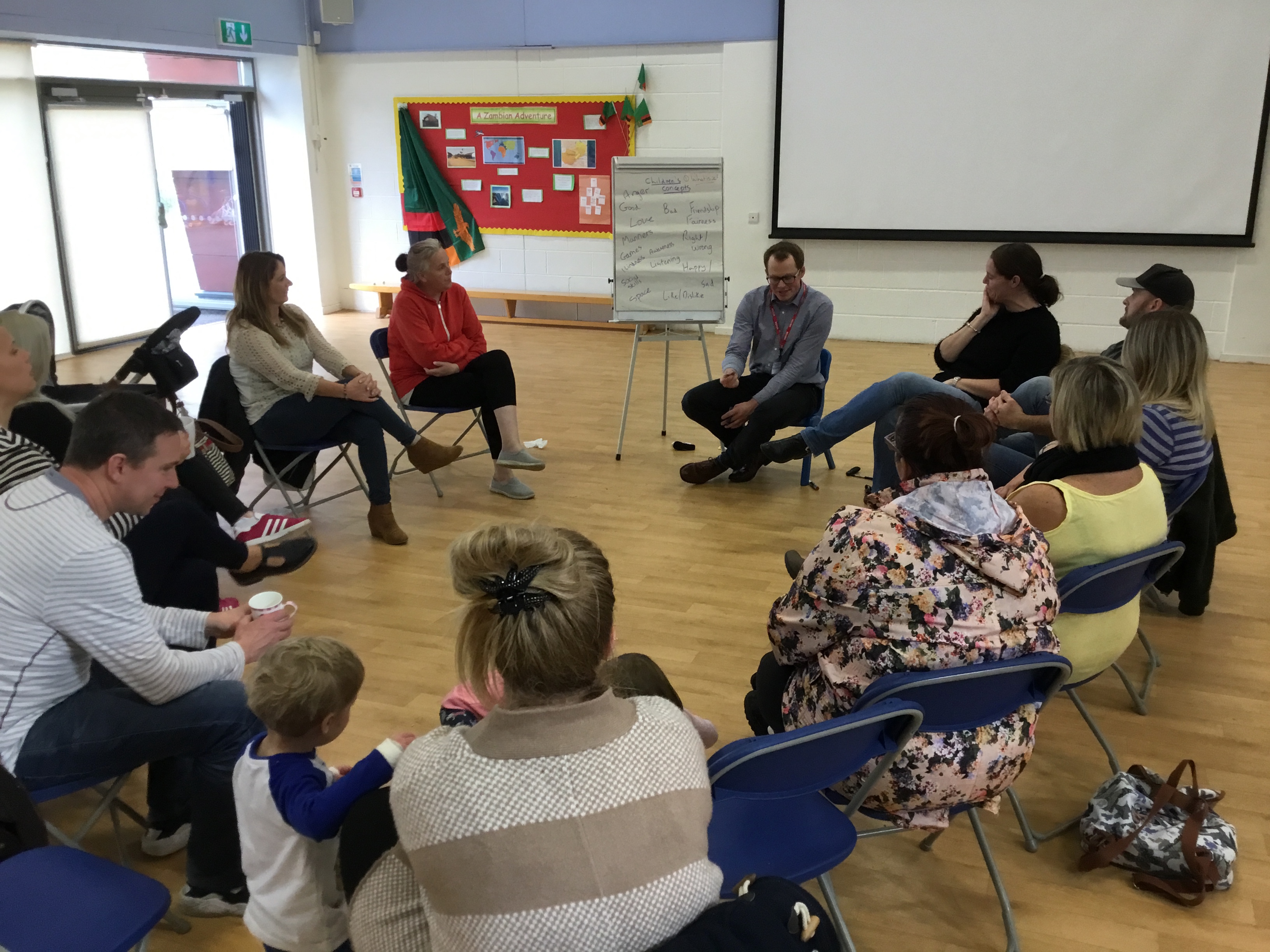 We help you organise the session, from planning to delivery: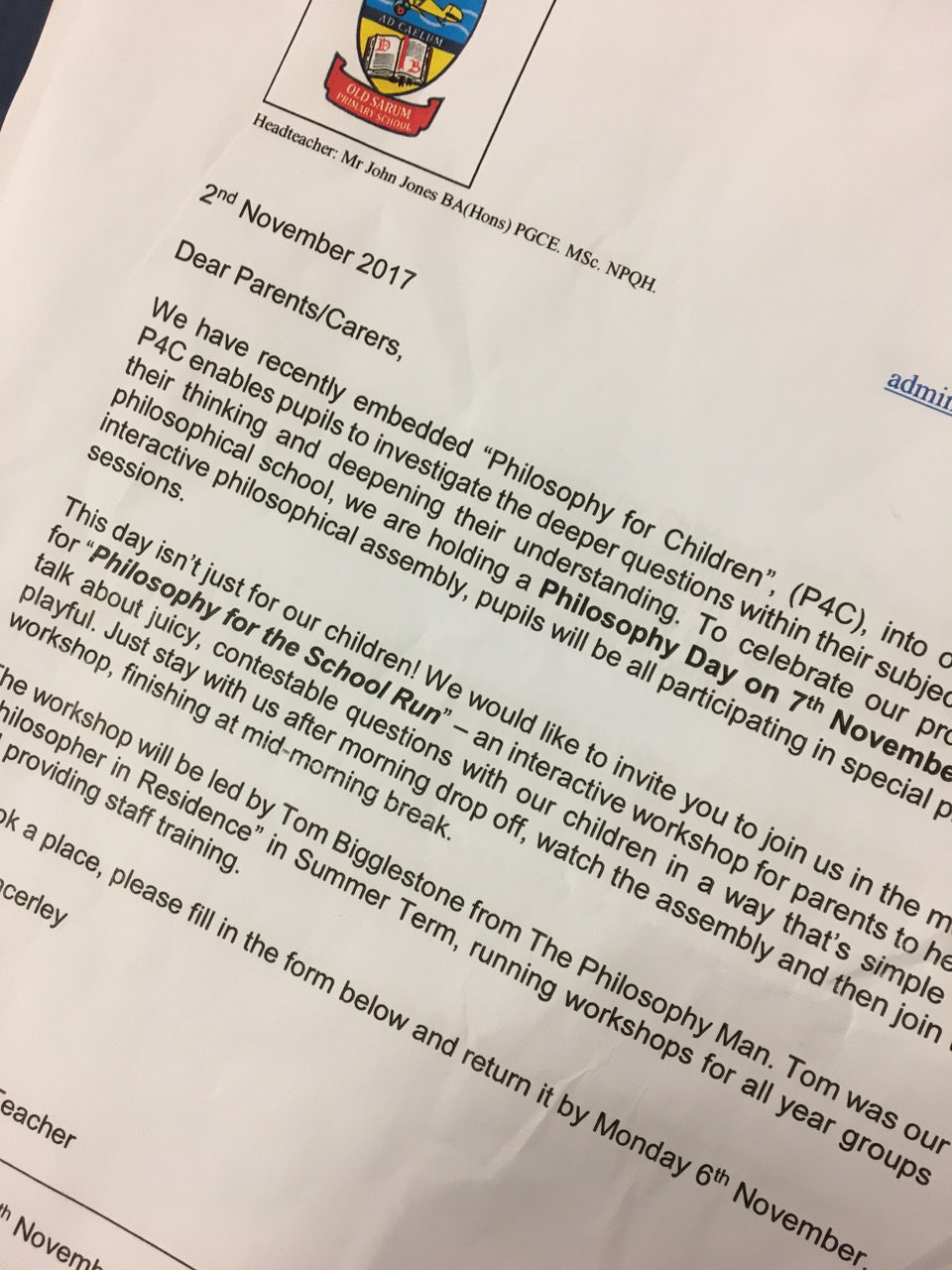 What's the difference between Philosophy Circles and "traditional" P4C?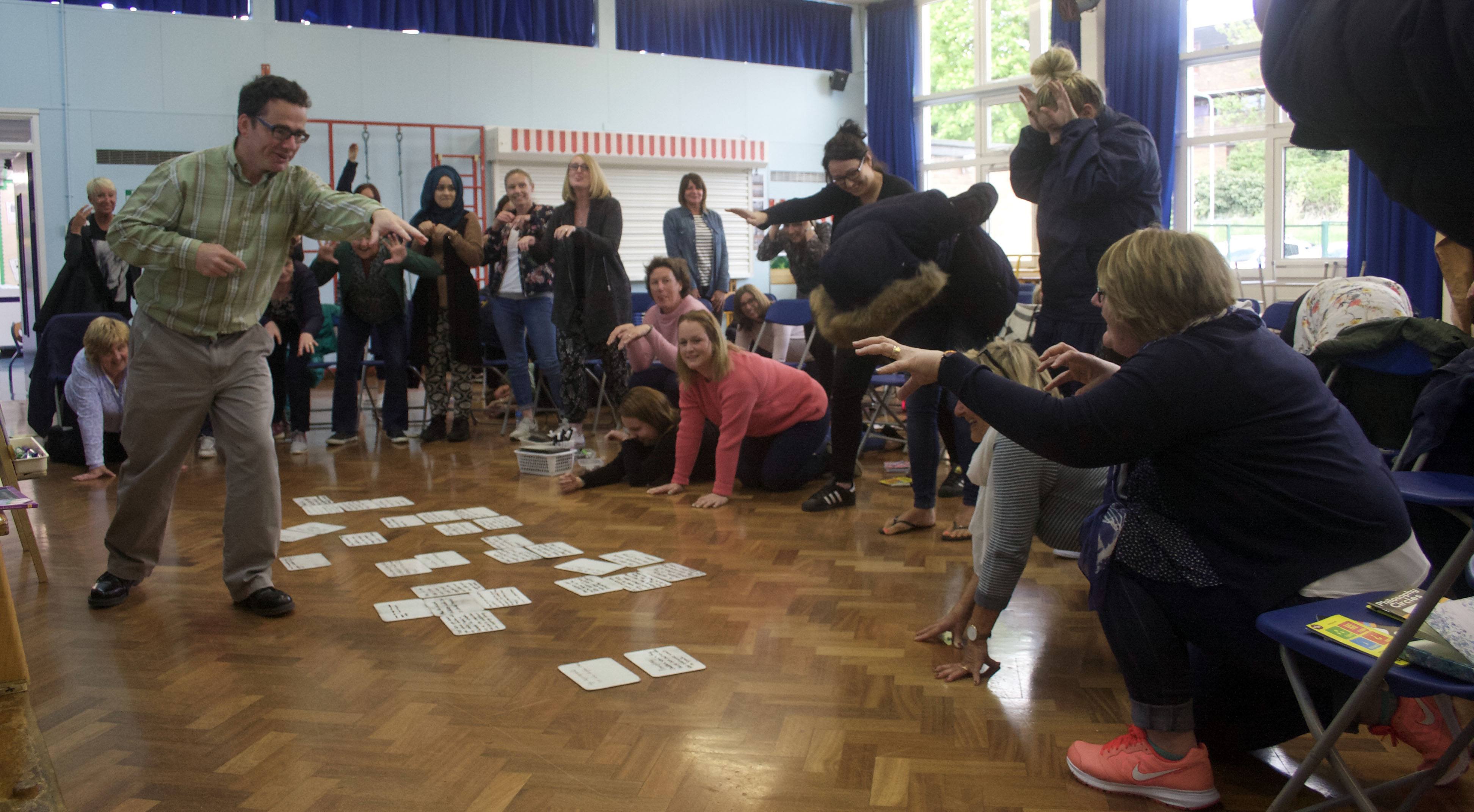 All P4C gets children thinking about challenging questions, and teachers act as facilitators rather than knowledge-givers. Traditional P4C follows a series of stages. Children see or read a stimulus, think about the ideas in it, create questions, evaluate the questions, and then choose one to talk about. In Philosophy Circles, the facilitator usually asks the first question, so the discussion gets started faster. The children's own questions are still important, but they emerge through discussion. Rather than stages, Philosophy Circles is built around three facilitation principles which run through the whole process. It makes it more fast-paced and versatile for use across the curriculum.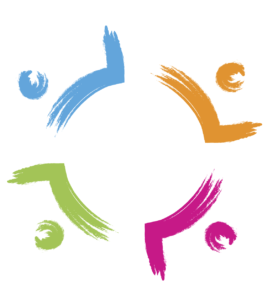 This all sounds great, but what will OFSTED say?
With the relentless focus on data, everything schools do has to show an impact on maths and literacy. Fortunately, not only does OFSTED look very favourably on Philosophy for Children, but a recent EEF study demonstrated that it had a positive impact on both maths and literacy scores. We are excited about philosophy for its own sake, but it's nice to know that it has a benefit for measurable outcomes, and in particular that it helps to diminish the difference between disadvantaged children and their peers.
'Philosophy for Children is giving pupils the skills they need to present a point of view and become more articulate, thus boosting their confidence
St Matthews School, Westminster
"Impressively, year 2 pupils can identify ethical dilemmas in their fiction books and propose related questions for discussion in philosophy lessons"
"Philosophy lessons challenge pupils to respond to probing questions, such as, "Are all humans connected in some way?"
Churchfields Infant School, South Woodford
The school advises and supports other schools in the use of philosophy with children. This exemplary practice is spreading throughout the school and is having a positive impact on pupils 'communication and thinking skills and this is beginning to be reflected in their achievement. In an excellent philosophy lesson in the nursery children were challenged to think about the characteristics of two imaginary characters and whether they would change depending on their facial expressions or on what they wear. The curriculum is broad and balanced and meets pupils' needs well, including the excellent promotion of their spiritual, moral, social and cultural development and philosophy.
SparHawk Infant and Nursery School, Norfolk
In a year 5 and 6 philosophy lesson, excellent use was made of a recently released Christmas advertisement for a famous store to encourage pupils to identify sophisticated concepts such as reliability, hope, trust and friendliness. This work made a particularly good contribution to developing their social and moral awareness
North Lakes School, Penrith
'The thought provoking and exciting curriculum the school has developed over the last two years is an outstanding component of the school's success (this includes) the development of 'Philosophy for Children', a powerful tool which both excites the pupils and gives them the confidence to explore stimulating and challenging ideas and concepts. It not only strengthens their academic learning, but also encourages their empathy for others and gives them insights into the adult world
Ropsley Primary School
Tailored resources so talking starts in reception and KS1
Much primary school training is focused on KS2, with Early Years teachers left to adapt as they can. Our sequence of a year's worth of professionally filmed "Spot and Stripe" videos provide the perfect introduction to philosophy for younger children, introducing children to discussion and argument through colourful, fun characters and irresistible questions.
Also in the series…
Cars
Children
Shopkeepers
Grown-ups
Teachers
Time-Travel
Dragons
Jobs
Jokes
The Wild West
Exploring
Letters
Christmas
Sailors
Magic
Superpowers
Pirates
The Park
Seasons
Uniform
Town and countryside
Flying
Animals
Underwater
Books
Tidying
Easter
Friends
Anger
Shapes
Stories
Happiness
Thinking
Boredom
Pets
Technology
"The day could not have been more fitting for our theme and children and staff loved it."
We were lucky enough to have a visit from Tom (aka The Philosophy Man) as part of our school themed week called 'Curiosity Week: The Big Questions'. Tom started the day with an exciting and engaging assembly for the children introducing them to the idea of 'Big Questions', which they all thoroughly enjoyed.  Each class from Reception up to Year 3 then each had an individual class workshop which stimulated their curiosity and allowed them to 'think outide the box' in order to solve problems. Each class workshop was completely different, but each were unique and hugely enjoyed by children and staff alike. Reception particularly enjoyed creating a real life venn diagram and Year 3 got the chance to enter into a debate with one another, extending and justifying their own viewpoints as well as listening to, accepting and challenging those of others.  The day could not have been more fitting for our theme and children and staff loved it. We are looking forward to introducing more philosophy and curiosity opportunities across our school thanks to everything we have learned from Tom and these wonderful workshops. Thank you Tom and P4C for a wonderful day!
Stephanie Wood
SEN Co-ordinator, Merlin School, London
"All the positive testimonials provided by other schools was certainly a winning factor for us. The P4C training and workshops were simply outstanding."
I inherited my role as P4C coordinator from my colleague who tasked me with planning a Philosophy Day. I had looked at several workshops and was pleased to stumble across The Philosophy Man website. All the positive testimonials provided by other schools was certainly a winning factor for us. The training and workshops were simply outstanding.
All the staff had basic P4C training but did not know how to use it within their classrooms. This then acted as a CPD opportunity for all staff and this was furthered in the staff meeting. There was a buzz during the staff meeting, which for any member of staff attending a staff meeting at the end of a half term, knows this is a rare thing! All the staff said how enthused and excited they felt to get back into their classrooms and try out the methods they had been shown.
After the workshops, I interviewed some children about their experience. I deliberately picked children who really struggle with the academic side of school life. One child, who had a workshop on bargaining for his life against a Mayan tribe, said "I loved the P4C workshop. It was so much fun to think of reasons why my life was valuable and the best part was, we didn't have to do any work!". The children saw the workshops as a chance to express themselves.
Thank you so much for inspiring us to continue with the exemplary training you provided and we look forward to working with you in the future!
Sarah Brown
Dulverton Primary School
"I loved the idea of 'going into orbit'; I wasn't sure how it would go but yet again my pupils have proved me wrong and they were absolutely amazing!"
As a SEN school it can be quite frustrating to attend courses that only focus on mainstream schools. The wonderful thing about Jason and Tom's training was that I felt not only could I use all the ideas in my school but also that pupils with special educational needs have absolutely been considered in their approach. I have used a number of ideas and resources from The Philosophy Man website with our pupils and have been so impressed with the positive effect it has had on the communication skills of all but especially those on the autism spectrum. I highly recommend this training to any teaching professionals as I feel it provides a fantastic opportunity to support pupils' emotional, social and academic progress. Thanks again for a fantastic training session and for your brilliant website.
Immediately following the training I ran a communication group session based on the pirate thinkers game. I had a group of 15 pupils aged between 10 and 15 with a range of special needs but mostly on the autism spectrum. I explained to them that they we were pirates who had been shipwrecked and that myself and my TA had been swept away on a piece of driftwood so they had to decide who their new leader was. I loved the idea of 'going into orbit'; I wasn't sure how it would go but yet again my pupils have proved me wrong and they were absolutely amazing! Am definitely going to plan more sessions that allow for pupil independence. We have been doing philosophy in school for 2 years now and I was mindful of what Tom said about having to pump up a football before you play with it; this is so true of my pupils. We have worked with them to give them strategies for effective communication, debate and decision making so to watch them put those skills into action with no adult input was just amazing!
Alexandra Miller
Class Teacher, Fitzwaryn Special School, Wantage,
"The resources are practical, effective and require very little preparation- which is great!"
After an inspiring and informative Inset Day, led by Tom, all staff were eager to try out P4C strategies and felt strongly about the principles P4C promoted.
P4C has enabled children to voice their opinions in a calm and controlled manner whilst having their views challenged. It has provided them with time to critically think about their own morals, beliefs and thoughts.
We invited Tom back for Interfaith Day! Through P4C, children naturally made comparisons and built upon their RE knowledge. Children thoroughly enjoyed the current and interactive assemblies, pitched appropriately for each Key Stage.
The weekly bulletins inspire and instigate current discussions with the children which can occur in many curriculum areas. The mini resource booklets are great too as they are concise and clear. The resources are practical, effective and require very little preparation- which is great!
Though we have separate P4C sessions, we have easily and seamlessly begun to use it in other curriculum areas.
Just fantastic!
Kayleigh Dell
Greenway Primary School
Who's running your course?
About Jason Buckley
The Founder and Director of The Philosophy Man. A life-long philosopher and former teacher, English, Jason is now an internationally renowned trainer, writer and speaker on P4C, classroom dialogue and stretching the more-able. He is author of two books, with more in the pipeline. He is also an outdoor educator, storyteller and improviser, and all these skills come together in his lively training, with minimum of Death by PowerPoint.
Click here to find out more about Jason Buckley →
About Tom Bigglestone
Tom's courses are incredibly well-received thanks to his several years' teaching experience. He has been Head of Department at both primary and secondary level, and in both the maintained and private sector. He has specialised for several years in P4C, and in 2014 was awarded The Walter Hines Page scholarship, for which he spent time in the United States researching assessment of philosophical skills. He brings his vast classroom experience and know-how into his energetic and interactive training.
Click here to find out more about Tom Bigglestone →
Booking and Delivery Models
Lots of schools like to start by booking a single day, but for the deepest impact and so that you can be guided through the whole programme, you need two or more days. Please book by filling out the contact form below, or contacting tom@thephilosophyman.com
| Peak INSETs Full day | Mon, Fri Full/half day | Tue – Thu Full/half day | School Packs | Teacher Packs |
| --- | --- | --- | --- | --- |
| from £1250 | £1250 / 800 | £1000 / 700 | 1 included | 30 included |
Any questions?
If you have any questions, or would like to make a booking in person, please fill in this form. We'll get back to you as quickly as we can.