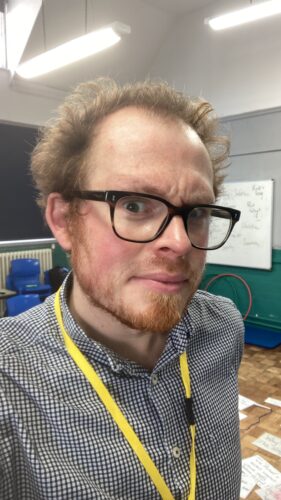 After several years experience as a Head of Department, I still remember my own childhood Religious Studies lessons as my inspiration to pursue a career in Philosophy.
Following a degree in Philosophy, and PGCE in RS, both at Durham University, I began my teaching career in Staffordshire as Head of Humanities (where I also a teacher of PE, Saturday referee, umpire, groundsman and Head of swimming pool maintenance).
After a hugely enjoyable time there, I worked in two London schools as Head of Religious Studies, teaching English, History and Geography, too. I sat on the Senior Academic Management Team at one, as Co-ordinator for the More Able.
When the opportunity arose to launch a curriculum of philosophy for children, I jumped at the chance and have never looked back.
In April 2014, I was awarded the prestigious Walter Hines-Page Scholarship by the English Speaking Union. I chose to research methods of assessment in P4C at its birthplace: Montclair State University in New Jersey. I came back with what feels like enough data for a book, and am publishing my findings in this tricky but important area of P4C.
I've had articles published in leading Headteachers' publications, and I was honoured when the UK government chose my words to lead their advice for talking to children about the war in Ukraine.
I've co-authored three books to date, including Thinking Moves A-Z - a gamechanging approach to metacognition written with Roger Sutcliffe and Jason Buckley.
I have also worked at the Economist Educational Foundation, supporting schools to develop students' news literacy.
As Lead Trainer at The Philosophy Man, I work with schools every week to help them embed P4C into their curriculums and by offering ongoing consultancy. I also speak at a range of events - from Heads' conferences and to training days for new teachers. I also write many of our free P4C resources which are sent out by email each week.
In my spare time, I can usually be found engaging in sport or training for some kind of endurance event, or writing my debut children's novel.