This week, an enquiry about AI, credit and creativity, inspired by our colleague Tuğçe Büyükuğurlu.
Tuğçe's story
Tuğçe is a children's author. One day, she saw an advert on the internet for some AI software called Perfect Pictures.
Need a picture pronto? Use our new AI service! Tell us what you want, and our software will give you something in an instant. You provide the description, we do the drawing! Get detailed, accurate images in a matter of minutes.
Looking to hang some art? Why buy it!
Creating a logo? Ditch your designer!
Writing a book? Who needs an illustrator?
Tuğçe began to wonder… if I can describe what's in my imagination, and tell this to my computer, do I need to hire an illustrator for my next book? Why don't I just use AI? Usually, I'd tell the illustrator what I want. How different is it to just tell a computer?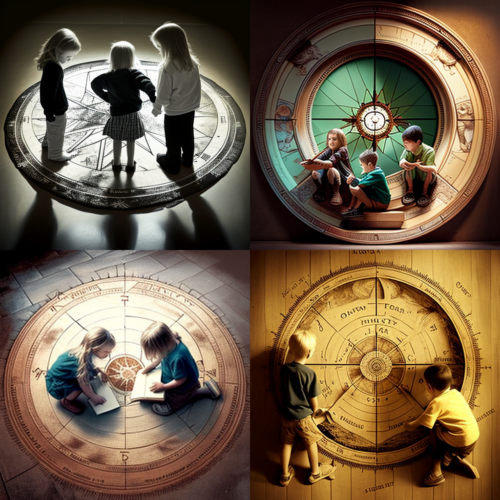 These are some of the pictures the AI generated when Tuğçe asked for pictures for "children using philosophy as a compass".
Questions:
Is using AI to illustrate a children's book any different from using a human illustrator? If so, what are the differences? What are the similarities?
What's the most important factor to consider here – the quality of the books? The livelihood of illustrators? Something else?
Tuğçe is still unsure what to do. What would you advise her?
Ammaar's story
Ammaar Reshi was reading his child a bedtime story when he decided he would have a go at writing his own. However, he had no experience of writing – he was a product designer. So, he gave AI software ChatGPT a title – Alice and Sparkle – and a theme, and asked it to write him one. He also used AI imaging software Midjourney to provide the illustrations. All he did was describe what he wanted.
And within 72 hours – Alice and Sparkle was created!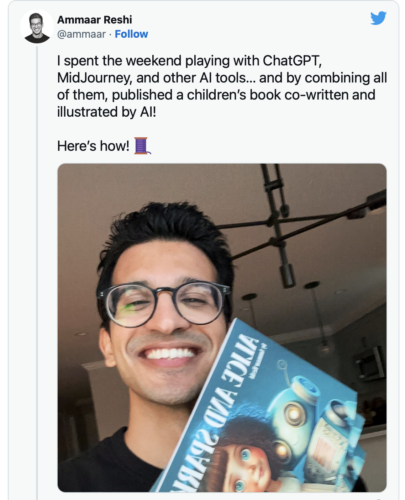 Ammaar even listed it on Amazon's book section.
The book received some positive feedback, but others were very critical. Not only was the writing a bit wooden and the pictures inconsistent, but some claimed he wasn't an author nor an illustrator (something he conceded). Others complained that AI uses existing art – made by real people – to learn, and so therefore Ammaar had indirectly stolen others' work. Here is one of the pictures generated.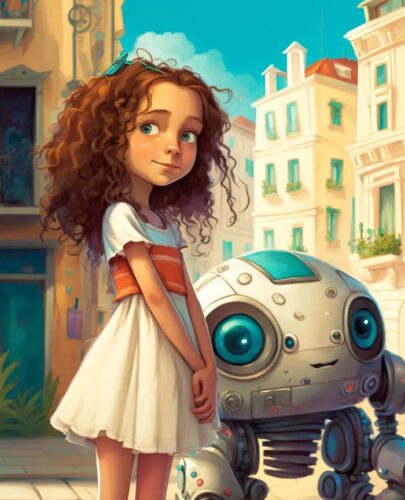 Ammaar responded to the last point by saying: "People say, 'Well, if this model is trained on my [their] artwork, and my artwork is copyrighted, is this exactly fair or legal?' But then I think you're going to get into this philosophical debate, which is, how is this different than a human learning [about] their favourite artist or someone drawing Batman fan art? One could argue that the computer is doing the same thing here." He adds, "I don't have a very concrete stance here yet."
To read more, take a look at these two very readable articles – one from The Washington Post, and one from Business Insider.
Questions:
Who created Alice and Sparkle?
Someone replied: "You didn't write anything. You didn't draw anything. You sat in front of a computer and asked it to do it for you." Did Ammaar write/draw something?
If you are very good at giving instructions to AI does it mean you are good at making a book?
Is it fair for him to earn money from a book created on AI?
If people learn how to draw by using other artists work, is it any different if AI does the same?

Ammaar is unsure whether to make another book in this way. What would your advice be?
Reflections:
How are the two stories alike?
Does the advice they offer differ? Why?
If you knew your bedtime story came from AI, would that change your experience of it?
If you enjoyed your bedtime story but didn't know it came from AI, would it matter that it had?
Could stories for children by AI ever be a good thing?
Is this technology here to stay?
Best wishes,
Tugce, Tom and Jason