Since forming in 2011, we have worked with over 300 schools, training over 5,000 teachers, and working with over 30,000 pupils. Here's just a few from the past year...
What are we doing?

In September, Tom visited St. Dominic's Primary School in Airdrie. Over two days, we worked with all 7 year groups as well as delivering a staff INSET introducing them to Philosophy Circles, and planning for progress with the P4C co-ordinator.
Tom returned in February to work more with pupils and staff: show-casing more strategies through pupil workshops, and facilitating the creation of topic-based resources in the INSET. Once again, we worked closely with the P4C facilitator not only on school-wide approaches, but her own development as a practitioner and leader of staff.
What has been the impact?
February 2018
St. Gabriel's was the third time we had worked with Headteacher, Lindsay Phelps. Read her comments below, and those of her teachers.
'As a New Head planning CPD for my staff my first thought was P4C. I have had experience of the training on previous occassions and had always left with a wealth of ideas and topics that I couldn't wait to explore in the classroom.  I wanted to inspire my whole staff to challenge the children and empower them to take the lead in learning. I feel that education is not always about getting the right answer but the answer that is right for you. Children need the opportunity to hear different opinions and perspectives and understand where they come from, this is how we create our citizens of the future.
"During the course of the training it was fabulous to watch my staff grow in confidence to allow the concept of a learning journey through a topic to develop. When in the classroom I never wanted to do the same thing twice, through P4C its very apparent that the same idea can go in very different directions if we listen to the children and their opinions of our world."
Lindsay Phelps, Headteacher
It was fantastic to have Tom share his knowledge and skills with the staff at St Gabriel's Catholic Voluntary Primary Academy. I personally found the training refreshing and inspiring. When I first started my teaching I attended courses based on Philosophy for Children but after our recent training day with Tom, I feel many of the ideas and discussions really provoked new ideas for teaching and learning in my classroom. The staff have used activities from the P4C training day in class this week, with the children. They have found these sessions fun, beneficial and creative. There has been a great impact on the engagement of all children in the classroom, with each child's voice being heard. A highly recommended day for the whole staff of a school. 
Laura Wordsworth, KS1 Leader and SENDCo
My knowledge of P4C was limited and I had not observed it in the classroom before. The day definitely exceeded expectations! It was engaging from the start and the involvement of staff as children brought the practical activities to life. Everyone has been discussing the session since and have applied it to the classroom(me included). I wouldn't change anything for a first session as it gave a good overview, I would be interested to see a follow up session in the future.
Rob Wake, NQT
What are we doing?

From September 2016, we worked with two Year 6 classes at Amesbury Primary School. We completed six weeks of P4C, the last recent three also including a twilight INSET for all staff to introduce them to our approach to P4C and plan for philosophical discussion within their existing lessons. The final one focused on becoming more skilful facilitators to push for deeper thinking.
Sessions were created around about their existing topic(s). For example, sessions at Amesbury were based on their existing learning: The Harvest Festival, Romans and The Gunpowder Plot.
Following the six week 'residency', Tom returned in April for another set of sessions with Year 5.
What has been the impact?
"It has been fascinating to watch the children engage with a range of challenging topics with maturity, enthusiasm and empathy thanks to the facilitation provided by Tom. Their curiosity was inspired by the thought-provoking stimuli in each session and several individuals, who usually find it challenging to share their ideas, came to the fore during the big discussions.
Pupils comment that they are thoroughly enjoying P4C and enthusiastically anticipate their lessons with Tom each week; they also site that 'they enjoy the challenges to their thinking.'
Since commencing P4C, we have noticed a dramatic increase in the children's ability to discuss concepts with their peers and they have vastly improved in their ability in looking at one another when speaking, in actively listening to one another and in building upon and challenging others' views and opinions. Before the lessons started, the children were not listening deeply to one another and responding to one another constructively – they had their opinion and that was it. We have also noticed an increase in confidence and concentration.
Initially, the children tended to direct their responses towards the adult. After a couple of weeks however, they were looking at the child they were responding to and dialogue bounced around the room without adult intervention
The children's critical reasoning skills were also developed; children were starting to support their views with reasons.
Enquiry based methods are also being instigated by the pupils themselves in other curriculum areas: 
Who is the villain in Macbeth?
Who is responsible for King Duncan's death?
Was the Highwayman guilty of any crime?
Is jealousy an acceptable motive for murder?
Can murder ever be justified?
As teachers, we are excited about working elements of P4C into our day-to-day classroom practice, particularly when creating and discussing questions during class reading sessions."
Sharree Johnson and Jonathan Hall, Year 6 Teachers
What are we doing?
During Summer Term 2016, Tom worked with all classes at Old Sarum as a "Philosopher in Residence." He also delivered a twilight INSET to help staff kick-start more P4C in their teaching.
Following the six week 'residency', Tom returned in November 2017 to help staff plan for their P4C day - where all pupils and staff would go off timetable to participate in specially planned P4C sessions crafted by Tom and their teachers. He returned again to help run the day - beginning the day with assembly, followed by a parent workshop, assembly, staff observation and workshops of his own.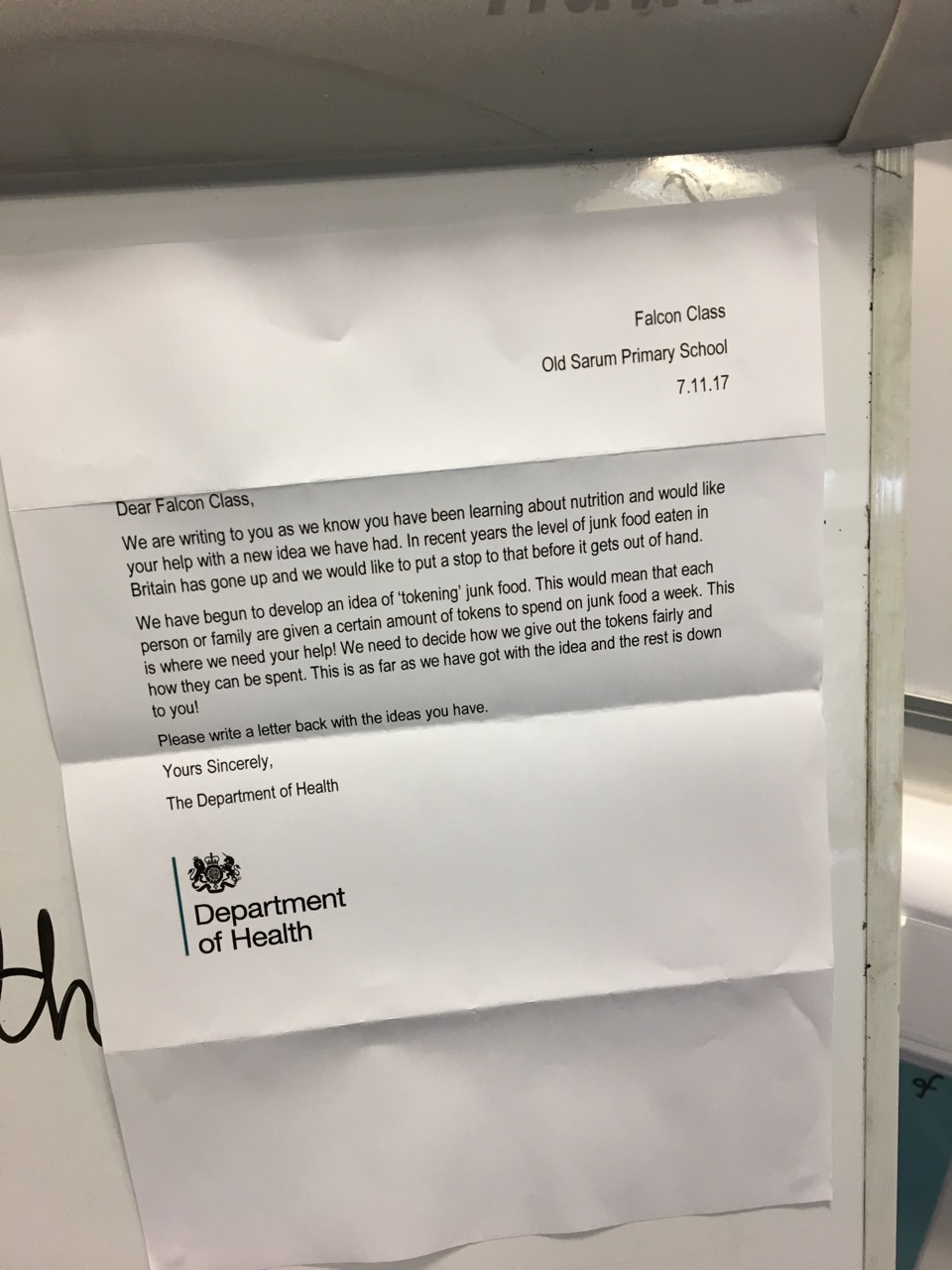 What has been the impact?
What a thought provoking day we've had! The children have thoroughly enjoyed engaging in fruitful discussions; holding one another accountable for good reasoning. They were very excited about welcoming Tom Bigglestone,  our 'Philosopher in Residence' back and demonstrating how we use philosophy to extend thinking and deepen understanding.
Here are some of the questions raised and details of the discussions we engaged in:
What is the most useful number? Children were devastated to hear the news that numbers had gone on strike. We discussed what impact this would have on society, a society without numbers. Children raised many issues including the absence of salary, employment including medicine and hierarchy.
"A life without numbers, is not worth living!" Isobel Moody.
We used Shaun Tan's picturebook "The Lost Thing" as a stimulus earlier this week. A story of a boy who comes across a bizarre creature and endeavours to find out where it belongs. First we discussed how we knew the thing was lost using evidence from the text. Next, the pupils were asked Is it possible to be 'just plain lost'?, Can you be lost in somewhere you belong? Children had some interesting ideas and raised the question 'Do the homeless belong anywhere?  Are they always lost? '
"You cannot be lost, if you don't belong somewhere" Megan Winter
Finally children were asked to order the containers, containing various materials from least to most full. The children were able to identify the materials (solids, liquids and gases) and posed the following questions: Does a liquid fill more space than a solid or gas?, Does the capacity of a liquid determine how full up the container is?, Is mass greater than capacity?
Alice Tubbs, Assistant Headteacher
What are we doing?
Having led an INSET at another local school, we were asked to deliver training for all staff at Greenway Primary School, and the partnership has continued since. Tom has since returned for an Interfaith Day and continues to collaborate with the school. Read more about the Interfaith Day here.
What has been the impact?
After an inspiring and informative Inset Day, led by Tom, all staff were eager to try out P4C strategies and felt strongly about the principles P4C promoted.
P4C has enabled children to voice their opinions in a calm and controlled manner whilst having their views challenged. It has provided them with time to critically think about their own morals, beliefs and thoughts.
We invited Tom back for Interfaith Day! Through P4C, children naturally made comparisons and built upon their RE knowledge. Children thoroughly enjoyed the current and interactive assemblies, pitched appropriately for each Key Stage.
The weekly bulletins inspire and instigate current discussions with the children which can occur in many curriculum areas. The mini resource booklets are great too as they are concise and clear. The resources are practical, effective and require very little preparation- which is great!
Though we have separate P4C sessions, we have easily and seamlessly begun to use it in other curriculum areas.
Just fantastic!
Kayleigh Dell, Teacher
What the pupils said...
"I like Interfaith Day because it made me think a lot about what things are about and the future. I like learning about different cultures."
"I like Interfaith Day because we always meet new people and I learn things I did not know."
"I enjoyed it a lot especially when Tom came in!"
"I like it because we talk a lot."
"I like Interfaith Day because it's fun doing cool activities and learning about different religions, the Prophets, the Gods. Even if you don't have a faith!"
"It's so fun answering questions!"
"I think Interfaith Day is very good because you get to talk about lots of different things."
"I think Interfaith Day is good because it gets your mind thinking."
What are we doing?

In February 2017, Tom spent two days at Dulverton Primary School delivering bespoke workshops for each class, from Reception to Year 6. Sessions were created around about their existing topic(s), for example:
Nursery- Arctic
Reception- Chinese New year
Year 1- Royal Family and British Values
Year 2- Great Fire of London (Does learning
Year 3- Egyptians Year 4- Islam
Year 5- Mayans
Following this short stay, Tom is returning later in the academic year to collaborate further with the school.
What has been the impact?
"I inherited my role as P4C coordinator from my colleague who tasked me with planning a Philosophy Day. I had looked at several workshops and was pleased to stumble across The Philosophy Man website. All the positive testimonials provided by other schools was certainly a winning factor for us. The training and workshops were simply outstanding.
All the staff had basic P4C training but did not know how to use it within their classrooms. This then acted as a CPD opportunity for all staff and this was furthered in the staff meeting. There was a buzz during the staff meeting, which for any member of staff attending a staff meeting at the end of a half term, knows this is a rare thing! All the staff said how enthused and excited they felt to get back into their classrooms and try out the methods they had been shown.
After the workshops, I interviewed some children about their experience. I deliberately picked children who really struggle with the academic side of school life. One child, who had a workshop on bargaining for his life against a Mayan tribe, said "I loved the P4C workshop. It was so much fun to think of reasons why my life was valuable and the best part was, we didn't have to do any work!". The children saw the workshops as a chance to express themselves.
Thank you so much for inspiring us to continue with the exemplary training you provided and we look forward to working with you in the future!"
Sarah Brown, P4C Co-ordinator
What are we doing?
At St. Hilary's, we led a set of workshops in the summer, followed by an INSET in September. Since then, we have provided a set of weekly session plans for Years 1 - 6, for use in a designated Philosophy lesson, based around each term's PSHE themes.
Not only have Years 1-6 enjoyed a weekly philosophical discussion, but 'St. Hilary's and the Philosophers' Stone' has become a regular feature in the school newsletter, posing challenging questions for pupils and parents alike.
Furthermore, the school organised a Philosophy Workshop for Parents in the second term, using our materials as stimuli.
What has been the impact?
Here's just a few comments from the teachers:
Year 1 & 2
"Really enjoyed session re What do we need to be happy - The children engaged well with the task.
At the end of the session each of the children chose one picture that was important to them. We then played the "which side of the fence" game with some of the choices. It was fascinating listening to their reasoning."
Year 3 & 4
"I liked though how the lesson plan stated that we should let the children lead this as it was a good reminder. Girls really took ownership of the discussion and came up with some excellent thoughts."
"This was a brilliant lesson on opposites and suited both Year groups really well. Good speaking and listening skills being used, extending their vocabulary."
Year 5 & 6
"A great lesson. The girls really enjoyed getting into character and thinking from their point of view. And then there was a great discussion from their point of view. There has been development of skills in listening to each other and agreeing or disagreeing with each other."
"Y5 girls loved this lesson and were really taken in. The idea generated great discussion and some very mature responses in Y5. 'I feel disappointed that the school doesn't trust us.' By far the best lesson in the first half of term."
"They got highly motivated when debating this issue.'
"Very interesting responses from Y6, who almost all thought it would be a good idea to have cameras! Lots of mature discussion"
"Really loved this and there were some fascinating discussions – my class really thought that this was going to happen and if we had the time were going to write a letter to the governor (indeed we may do this next term)"
"They LOVED this one – I was surprised at the mature level of their discussion and reasoning. None of them thought it was a good idea as they believed you should work hard because you want to improve yourself, not because you are being bribed!"